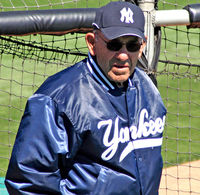 Yogi Berra

Date of birth: May 12, 1925
Died: September 22, 2015
Born: in St. Louis, The United States.


Description: Lawrence Peter "Yogi" Berra was an American Major League Baseball catcher, outfielder, and manager. He played almost his entire 19-year baseball career (1946–1965) for the New York Yankees. Berra was one of only four players to be named the Most Valuable Player of the American League three times and is one of only six managers to lead both American and National League teams to the World Series. As a player, coach, or manager, Berra appeared in 21 World Series. He was elected to the Baseball Hall of Fame in 1972.