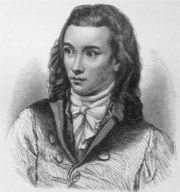 Novalis

Date of birth: May 02, 1772
Died: March 25, 1801
Born: in Mansfeld, Oberwiederstedt, Germany.


Description: Novalis was the pseudonym of Georg Philipp Friedrich Freiherr von Hardenberg, an author and philosopher of early German Romanticism.

His poetry and writings were an influence on Hermann Hesse. Novalis was also a huge influence on George MacDonald, and so indirectly on C.S. Lewis, the Inklings, and the whole modern fantasy genre.
Advertisement