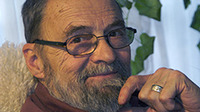 Jake Page

Date of birth: January 24, 1936
Died: February 10, 2016
Born: in Boston, Massachusetts, The United States.


Description: James Keena "Jake" Page, Jr. was the founding editor of Doubleday's Natural History Press, as well as editorial director of Natural History magazine and science editor of Smithsonian magazine. He has written more than forty books on the natural sciences, zoological topics, and Native American affairs, as well as mystery fiction.
Advertisement