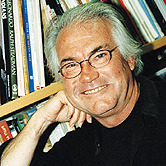 Gary Crew

Date of birth: September 23, 1947
Born: in Brisbane, Australia.


Description: Dr Gary Crew, author of novels, short stories and picture books for older children and young adults, began his writing career in 1985, when he was a high school teacher. His books are challenging and intriguing, often based on non-fiction. As well as writing fiction, Gary is a Associate Professor in Creative Writing, Children's and Adult Literature, at the University of the Sunshine Coast, Queensland and editor of the After Dark series.

He lives with his wife Christine on several acres in the cool, high mountains of the Sunshine Coast Hinterland in Queensland, Australia in a house called 'Green Mansions' which is shaded by over 200 Australian rainforest palms he has cultivated. He enjoys gardening, reading, and playing with his dogs Ferris, Beulah, and Miss Wendy. In his spare time he has created an Australian Rainforest Garden around his home, filled with Australian palms. Gary loves to visit antique shops looking for curios and beautiful objects.

Gary Crew has been awarded the Children's Book Council of Australia Book of the year four times: twice for Book of the Year for Young Adult Older Readers (Strange Objects in 1991 and Angel's Gate in 1993) and twice for Picture Book of the Year with First Light in 1993 (illustrated by Peter Gouldthorpe) and The Watertower (illustrated by Steven Woolman) in 1994. Gary's illustrated book, Memorial (with Shaun Tan) was awarded the Children's Book Council of Australia Honour Book in 2000 and short listed for the Queensland Premier's Awards. He has also won the Wilderness Society Award, the Whitley Award and the Aurealis Award for Speculative Fiction.

In the USA he has been twice short listed for the Mystery Writers of America Edgar Allan Poe Mystery Fiction Award for Youth and the Hungry Minds Review American Children's Book of distinction. In Europe he has twice been and twice the prestigious White Raven Award for his illustrated books. Among his many Australian awards is the Ned Kelly Prize for Crime Fiction, the New South Wales Premier's Award and the Victorian Premier's Award. He has been short listed for both the Queensland Premier's and the Western Australian Premier's awards for Fiction.