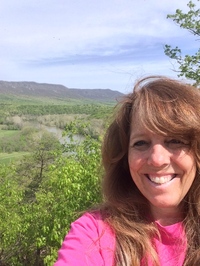 Donna Kauffman

Date of birth: March 18, 1960
Died: April 09, 2020
Born: in Washington DC, The United States.


Description: USA Today bestseller and award winning author of the Cupcake Club series and the Blueberry Cove series, DONNA KAUFFMAN has been gratified to see her books get rave reviews in venues ranging from Kirkus Reviews and Library Journal to Entertainment Weekly and Cosmopolitan. She lives in the beautiful Blue Ridge Mountains in southwestern Virginia, where she is happily working on the next book in her brand new Blue Hollow Falls series, set right in her mountain home area. When she's not writing, she can be found recapping the popular tv show NCIS for USA Today, or escaping into her garden to play in the dirt. Donna also works as a volunteer wildlife transporter for two local sanctuaries, giving orphaned and injured wildlife a second chance at survival. You can catch up on all of her adventures via her author page on Facebook, or on Twitter, or Instagram @writerchick. Donna loves to hear from readers! You can contact her through her website at www.donnakauffman.com.Donna Kauffman passed away on April 9, 2020 of pancreatic cancer.
Advertisement